Top 5 Must UX Strategies that Your Business Needs Right Now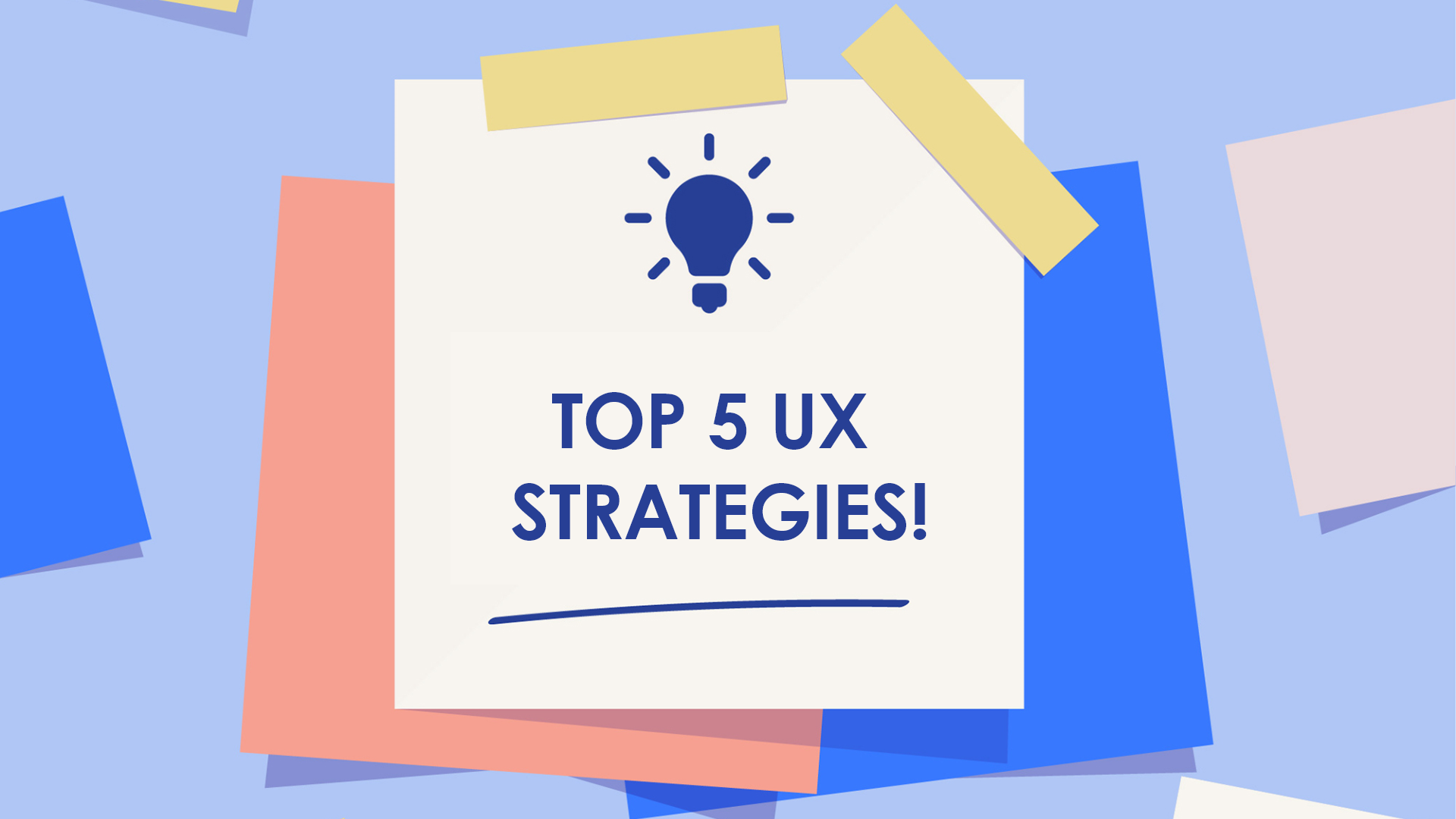 E
arning more revenue by selling products online is not everyone's cup of tea. For doing so and making your online products compelling, UX strategy plays a vital role. But a
successful UX design
doesn't happen by luck, rather great UX design happens when you apply UX strategy.
The term "UX Strategy" seems a little less glamorous, but the truth is it's just empowering. It lies at the intersections of UX design and business strategy. In fact, this can be defined as a plan of action on how to find out if the user experience of a product is aligned with the business objectives.
Basically, it's a plan and approach for selling digital products. UX Strategy is used to create an understanding between designers and the goals of the product objectives. It lies at the crossroads of UX design and business strategy. Here, each part of the UX strategy should be based on enough research and supervised by the vetted stakeholders.
However, the implementation of the UX strategy depends on a number of factors. In this article, we'll be discussing everything UX strategy. So, before going into the deep, let's get started with the type of UX strategy in terms of organization.
Impact of Types & Sizes in UX strategy
The best user experience for a specific product is greatly dependent on a fabulous UX strategy. This type of well-formulated UX strategy must address the following two:
How do we design and manipulate the best UX for a particular product?
What are the best ways to create and manage UX at a business?
Generally, the UX strategy can vary from one company to another due to the type and size of the specific company. This type and size of the company have a huge impact on UX. Moreover, strategies for one particular product might not be suitable for another. Different situations require different strategies for serving purposes.
For instance, start-ups or smaller companies focus on a deliverable or roll out of a specific feature on a product maintaining a strategy, however, larger and established companies could have a variety of teams working on several products, who have been maintaining a different strategy.
To make a solid UX strategy, you need to start planning by understanding what it entails based on the user-centric point of view. Hence, ready to get started with designing an adaptable UX strategy?
Here are five steps to ensure a successful UX strategy:
1. Understand the market & target audience
A solid UX strategy begins by asking the questions. On top of everything, you need to do extensive UX research to figure out the right process. Furthermore, it needs to have a sound understanding of the market and your target audience. Here is a list of some questions you may consider to have the best result:
Here some of the questions you should know before you start designing your landing pages:
How much do you know most about your product?
What are the problems you want to solve for your products?
What could be the possible touchpoints for the product you're dealing with?
How do your users feel about using your products?
What are your business goals including customer retention and conversion?
Make a study about your marketplace to know who your core competitors are and what they are offering with the same UX that you're dealing with. Create anything that is more improved as compared to your competitors. It's advised to create a spreadsheet or database to collect your data so that you can manage them well.
2. Follow the established UI patterns
Established UI patterns make sense across products with similar uses. You can have a solid idea about the successful UX patterns that will help you to make a strategy for your business. Try to be sure of the product's strengths and weaknesses relative to its competition.
Whether this is a navigational UI, deployment of UI or other conventional elements, it's effective to follow established patterns rather than create from scratch. Just make a proper study, consider what makes sense and use them strategically.
The first point indicates the background information to the nitty-gritty of your UX strategy. Now, let's move towards the research that you have completed to polish your design strategy and objectives. To make it possible, you should rethink the followings:
Defining your target audience
Your approach that you are taking
Set your expectation and how to measure it
When to start and finish your project
Last point here includes your start, end date, product milestones and dates of achievement of all together. Most importantly, you shouldn't be wishy-washy while completing the whole process. Try to be specific as much as you can and only then you're likely to reach your expected goals.
4. Analytics – develop, test, and revise
Once you're done with accumulating the ingredients for setting up a crystal-clear UX strategy, now you need to check that it works smoothly according to your objectives. Geek out the solid information, and get access to Google analytics and test them appropriately.
To get started you employ Minimum Viable Product (MVP) that allows you to get an idea about the respective product. MVP is a minimum version of a product with very necessary features to serve initial customers. This will provide you with essential metrics for future product development.
Most compelling metrics examine a number of data points that helps you to establish a compelling UX strategy. Moreover, the comparison between the new and returning users will provide you with more insight than just looking at the general traffic report. Using a tool like
Optimizely
will help you to run A/B tests so that you can figure out what performs best or not.
Hotjar
of heatmaps, usability testing tools, and other web analytics tools allow you to go through successive rounds of testing. In the end, revise the process carefully that you went through. This will make you understand what works well in that process.
5. Releasing and product revisions
Earning review by selling products is the ultimate goal of any kind of business. To sell products, you need to realise them first. Once you're done with the developing, testing, and revising; now, you're ready to release the final version that will solve the users' problems.
As business purposes grow, user experience design needs to understand better, and revisions will need before releasing each product as well. The outline of your UX strategy should be adaptable with the changes and new product releases. In this case, you can follow Ajax UX that will help you to incorporate constant research even after the product release.
Finally: UX strategy & business strategy
Understanding the business strategy and validating UX strategy reduces the risk of wasting time. This happens through identification of value innovation and user research altogether. Product design is a fundamental process of achieving business objectives by dint of UX.
Until now, it's viewed that design and business have never sat at the same table. Someone believes that designers are tasked for only making things look attractive. But the truth is, now designers are crucial to the success and scalability of your business.
Getting skilled designers involved in your business strategy earlier can bring more users and increase profits in the long run. Designers design for retention and company profit. One
study by Nain & Company
indicated that enhancing customer retention by as small as 5% can manage an increase in profits of 25% — 95%.
In conclusion, it can be said that a substantial UX strategy will allow you to design a digital product that fulfils user's needs. It helps the team and the stakeholders reach a shared vision for earning efficiency. It's noted that if you fail to plan, you're planning to fail.
Design is more than what we see on the computer as it's a way of thinking. You need to consider all the necessary aspects to ensure a successful UX strategy. A solid UX strategy can act like a guiding light for the project you're going through.
Hope this article has resonated with you, let us know your opinion on this part. So, ready to get started with the UX strategies of your next product? Learn how TechCare can help to serve your purposes.
Book a free Consultation today!